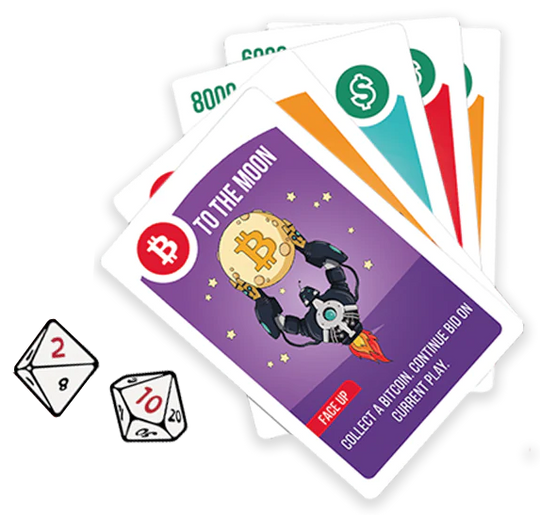 Roll the dice, set the Bitcoin price
Roll with 2 to 6 Players.
WHATS IN THE BOX?
72 MONEY CARDS & 20 SPECIAL CARDS

Use the money cards strategically to outbid your opponents and leverage the special cards to gain a competitive edge.

18 COLLECTIBLE BITCOIN CARDS

Featuring unique hand-drawn artwork, these cards showcase retro characters that draw inspiration from famous icons.

2x TEN-SIDED DICE & INSTRUCTIONS

Inside the box, you'll find 2 ten-sided dice that, when multiplied, reveal the dynamic Bitcoin price for each turn.
Meet Mike 'The Bro' Browalsky
A former youtube celebrity and a retired boyfriend. In this hilarious TV "infomercial" detailing the awesomeness of BITCOIN WARS.
Bitcoin wars - The card game
2 minutes to learn, 15 minutes to play, 2-6 players.
Who is this game for?
Friends

Ideal for entertaining game nights with friends.

Family

Teach kids the value of money and introduce Bitcoin.

Bitcoin bros

A perfect gift for your favorite crypto bro.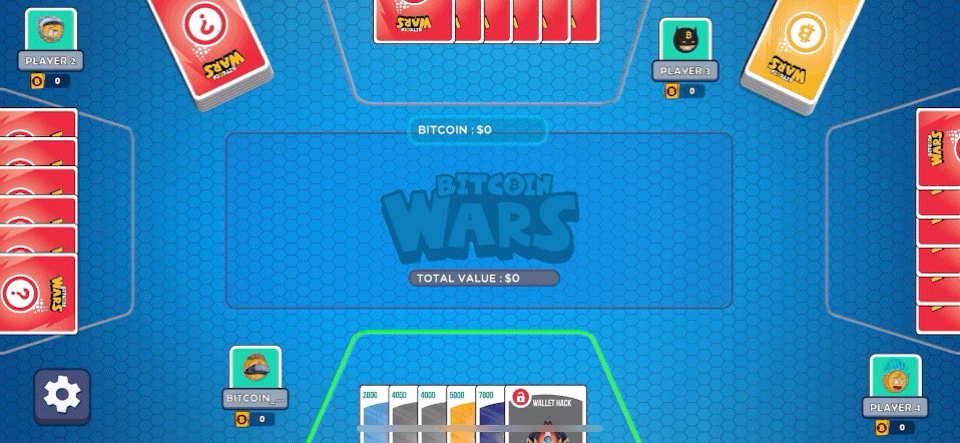 mobile version comming soon
Bitcoin curious? Come and build with us! We got programmers, we need ideas and testers.
test with us
Receive an invite to JOIN the Mobile Game Beta!
Tech founders who support us
"Co-founder Quickswap, Bitcoin maxi"

"Blockcahin Investor and Product Advisor"
FAQ
Find the most frequently asked questions below.
No. Everyone can play this game, regardless of their knowledge about crypto. No matter if you are a noob or a pro, it may sharpen your wits and improve your crypto trading skills.
No. The game doesn't involve any real assets. It is just a family-friendly card game you can play at home with family members and friends.
The object of the game is to be the first to collect 5 Bitcoin cards. To do this you will have to outsmart other players by strategically placing bids and wisely selecting and using special cards.
Yes. Want your kid to be the most crypto-savvy child in their class?! This game is the right way to start their crypto education. The game is recommended for anyone aged 8 and above.
Free Shipping

High Quality

2-6 Players, Ages 8+

Innovative Gameplay

Free Returns